Diageo launches £5m training scheme for young people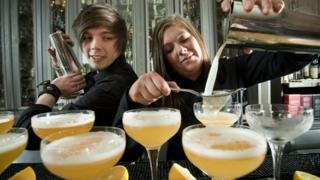 Drinks company Diageo has launched a £5m training scheme to help young people carve a career in the hospitality industry.
About 200 graduates will be offered roles linked to the Commonwealth Games and the Ryder Cup.
Participants will be trained in bar-tending, hospitality, and teamwork and communication skills.
The programme aims to lower youth unemployment and give the sector a skills boost.
Gleneagles Hotels chairman Peter Lederer, who is also a director of Diageo Scotland, said: "The 2014 Ryder Cup and the Commonwealth Games coming to Scotland in the same year gives us a unique opportunity to have a positive impact on the lives of young people, and also to give a real boost to our hospitality industry.
"With Learning for Life, Scotland, Diageo is determined to play its part in seizing that opportunity and looking beyond 2014, we want to build on that by using our business in the broadest sense to help create opportunities for young people in manufacturing as well as hospitality.
"We also want to use the programme to encourage the kind of entrepreneurship which has made Scotch whisky a global triumph."
Diageo, which owns drinks brands including Johnnie Walker, Guinness and Smirnoff, is an official partner of this year's Ryder Cup at Gleneagles.
The firm first launched the programme in Latin America in 2008. The Scottish launch sees the training being rolled out in Europe for the first time.
It has received support from Skills Development Scotland (SDS), members of the Scottish Licensed Trade Association and the charity Springboard UK.
SDS chief executive Damien Yeates said: "SDS is delighted to support the 'Learning for Life' scheme and we look forward to seeing future stars of key industries emerge from this programme."