New business boosts sales at packaging firm Macfarlane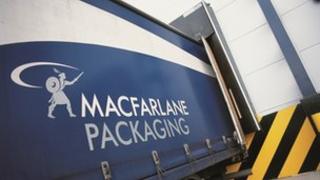 Packaging firm Macfarlane has reported a rise in revenues following increased sales, although profits fell after one-off costs.
The Glasgow-based group's turnover rose to £144m but profit before tax was down from £5.5m to £4.7m.
The company said internet trading, which had provided extra business in the past, continued to offer "good growth potential".
Macfarlane said 2013 had been another "challenging year".
However, group chairman Graeme Bissett said there were signs of recovery.
He added: "The real incomes of UK consumers remain below pre-recession levels, though with some signs that the corner will be turned in 2014.
"The story on business investment is one of rising confidence and future action, but with only limited progress in 2013."