Aggreko returns £200m to shareholders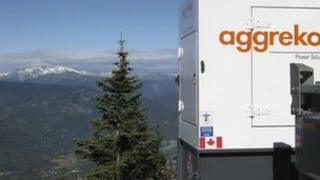 The temporary power firm, Aggreko, has announced an expected drop in profits but says it is to return £200m to shareholders.
The company made a pre-tax profit of £338m in 2013 - a fall of 8% on 2012.
Aggreko had signalled profits would be lower in comparison to a strong performance in 2012 when it provided power for the London Olympics and reconstruction projects in Japan.
The company said it was the right time to supplement the ordinary dividend.
It said subject to approval, shareholders would get 75p in respect of each existing ordinary share they hold on 27 May 2014.
Chairman Ken Hanna said: "After nine consecutive years of growth, 2013 proved to be a challenging year. Despite this, Aggreko delivered a creditable performance and good progress on many fronts."
He added that 2014 had started well and a recently-signed contract with Libya had not been included in the order book because of volatility in the country.
"Assuming that we are able to proceed in Libya, we expect that order intake for the first quarter will be at a similar level to the final quarter of 2013", he said.
Chief executive
The company's chief executive, Rupert Soames, recently announced he was to leave the Glasgow-based engineering firm in the spring to take up the same role at Serco Group.
He will be replaced in the short-term by the chief financial officer, Angus Cockburn. A search for a permanent replacement has already begun.
Aggreko's local business operates from about 133 service centres in 31 countries and rents out products ranging from small generators to large cooling plants.
Its international power arm serves utilities, governments, armed forces and major industrial customers with power plants ranging from 10 megawatts to 100 megawatts on a single site.
Aggreko employs more than 4,500 people operating from 165 locations.
Independence referendum
The company has spoken about the implications for its business of Scottish voters backing independence.
It said: "If Scotland were to leave the United Kingdom and become an independent country, it would likely burden our UK business with added operating complexity and cost.
"There is also a risk that the outcome of the issues of currency and membership of the EU will not be helpful to our business.
"At the very least, if Scotland votes for independence we will face some years of uncertainty and hiatus."
Aggreko stressed, however, that it would "find ways to manage around this challenge if it arises".
It added: "The major impact will be in the UK, which accounts for less than 10% of our revenues, and as a global business we will have plenty of options."
A Scottish government spokesman said: "An independent Scotland would have access to the full range of powers to build on the underlying strength in our economy, creating an even more attractive environment for business, and a more prosperous and secure economy.
"The main uncertainty for business remains the UK government's plans for an in-out referendum on EU membership, and the attendant risks for jobs, investment and prosperity that would bring."
A Better Together spokesman said: "Following the interventions from the likes of Standard Life, RBS, Shell, BP, Lloyds and now Aggreko, it's clear that independence would be a huge leap into the unknown that would cost jobs in Scotland."