'Room for optimism' on Scottish economy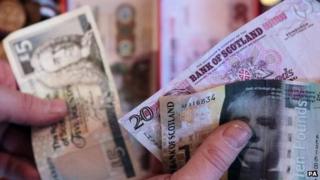 The Scottish economy will grow by 2.3% in 2014, economists at the University of Strathclyde have predicted.
The economic commentary from the Fraser of Allander Institute also suggested the economy would grow by a further 2.3% in 2015.
The last forecast from the Institute, published in October 2013, had predicted growth of 1.7% for 2014.
While conceding recovery is by no means certain, the economists said there was room for "considerable optimism".
The institute said the forecast reflected higher than expected household spending, increased investment, improving trade conditions, and optimism reflected in business surveys.
Brian Ashcroft, emeritus professor of economics at the University of Strathclyde, said: "After six years since the start of the great recession we are now witnessing a stronger recovery, although this one is weaker than almost all previous recoveries.
"While there is room for considerable optimism, the continuing imbalances in both the Scottish and UK economies means the future path of the recovery is by no means certain."
Investment incentives
Prof Ashcroft added: "In the light of continuing weak investment and rising UK regional inequality in growth and income per head, the chancellor should use his forthcoming Budget to introduce a programme of private sector investment incentives, such as accelerated depreciation, with differential regional incentives, to reflect specific regional challenges.
"Academic evidence on the impact of regional policy in the 1960s shows that it works best when the national economy is recovering and firms are thinking about investing. So now would be the right time."
The Fraser of Allander's economic quarterly is produced in association with PwC.
Paul Brewer of PwC in Edinburgh said: "We'd like to see the UK Budget focus on stimulating both domestic and inward investment.
"This is the right time for the Scottish government to step up the pace here too, sustaining its own investment programme, making the most of EU investment support, and by supporting our cities."