Scottish independence: Firms 'see risks more than opportunities'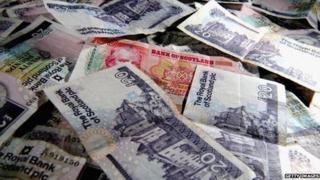 Senior figures in Scottish business are seeing risks more than opportunities in the prospect of Scottish independence, according to university research.
Their response ahead of the referendum on 18 September was found to be linked to their ownership structure and where their customers were located.
Those most concerned tended to be based in Scotland, with many UK customers.
The Scottish government said it would use Scotland's economic strengths to build a more prosperous society.
The research found that medium-sized, privately-owned or foreign companies tended to see fewer problems than larger plcs.
Finance sector
The findings, from academic research at Edinburgh University's business school, showed that most concerns were in the financial sector, which has also been undertaking most advance planning.
In other sectors, there was little contingency planning. Out of 60 company bosses interviewed, two had deferred investment because of the referendum uncertainty, and only five said the debate had changed their current business decisions.
The research was carried out by Brad Mackay, professor of strategic management at Edinburgh University. It is part of the extensive research programme on the future of the UK and Scotland, backed by the Economic and Social Research Council.
The professor interviewed 60 senior figures, representing a range of ownership and size, including companies with more than 50 employees. Twelve were headquartered in the UK, and 15 overseas.
Of them, 54 saw more risk than opportunity from independence, and six saw more opportunities. Uncertainty was the main concern.
Twenty of the firms represented were in the finance sector. They had the most concerns, including regulatory change, Scotland's future currency and personal tax levels. Currency was the biggest concern for other sectors, and was cited as a risk by 31 out of 60 interviewees.
Interviewed between November and February, 23 of them had yet to identify any opportunities.
Among others, some finance sector representatives suggested there could be income tax cuts. In other sectors, 10 out of 40 saw the opportunity for improved government support or subsidy. Eight of those interviewed believed a more liberal Scottish immigration policy could help their businesses.
'Jobs at risk'
Prof Mackay said: "For many large businesses in Scotland, the potential risks presented by the independence referendum appear hard, but the perceived opportunities seem much softer."
His interviews found business leaders were "immensely proud of their Scottish links", and most were "resolutely politically neutral where their business interests are concerned".
The research results came with an explanation that the findings are exploratory and qualitative rather than quantitative.
The pro-Union Better Together campaign said the message from Scotland's employers was that independence "would cost jobs for hard working Scots".
Labour's shadow business minister Ian Murray said: "The fact is that the majority of the employers surveyed here say Alex Salmond's failure to be honest about what would replace the pound puts jobs in Scotland at risk.
"Rather than telling employers that they are all wrong and only he is right, what the nationalists need to do is tell us the Plan B on currency. Would we rush to join the Euro or would we set up an unproven separate currency?"
He added: "As part of the UK we can have the best of both worlds. Our strong Scottish Parliament, with the guarantee of more powers, takes key decisions about jobs, skills and training, and we benefit from the strength, security and stability of being part of the larger UK."
'Strong record'
A Scottish government spokesman said: "Scotland has a strong recent record in attracting international investment.
"By international standards Scotland is a wealthy and productive country, as highlighted by Standard & Poor's analysis that the country has wealth levels that would qualify it for their highest economic assessment.
"It is the Scottish government's position that we would keep the pound as part of a formal currency union, but would also continue membership of the EU, which is currently at risk by Westminster's proposed in-out referendum."
The spokesman added: "The point of independence is to use Scotland's immense economic strengths to build a fairer and more prosperous society."
He said that in the first session of a Scottish Parliament the current Scottish government would reduce corporation tax by up to three percentage points and reduce air passenger duty by 50%, encouraging business growth.
"In addition we would seek to simplify the tax system to reduce compliance costs, streamline reliefs and help to reduce tax avoidance, with a target revenue gain of £250m a year by the end of the first term," the spokesman added.
"Scotland will inherit the prevailing UK tax code at the point of independence, including tax rates, thresholds and allowances for all taxes."