Losses mount for Edinburgh-based Cairn Energy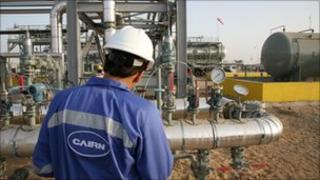 Edinburgh-based oil and gas explorer Cairn Energy has reported a pre-tax loss of $1.1bn (£660m) for 2013 up from $194m (£116m) loss the previous year.
It followed a number of unsuccessful drilling projects.
This week Cairn announced a well in Morocco had proved to be dry.
The company said it was halting its $300m (£181m) share buy back programme while an investigation by Indian tax authorities into its operations there are ongoing.
The group still has a 10% shareholding in Cairn India Limited (CIL) and it said while investigations are continuing - it is not able to sell that stake.
The company's costs for unsuccessful exploration rose 34% to $213m (£128m), which included $107m (£64m) spent on drilling offshore Morocco and $81m (£49m) in the North Sea.
Simon Thomson, chief executive, Cairn Energy said Cairn had an "active drilling programme in 2014".
He added: "The strategy continues to focus on an attractive mix of frontier and mature basin exploration.
"By building a growing prospect and lead inventory, from which to select and high grade prospects for drilling, we aim to offer shareholders material potential growth opportunities over the long term."
He said Cairn was "committed to resolving the Indian tax situation".