ONS data: Scottish unemployment falls by 6,000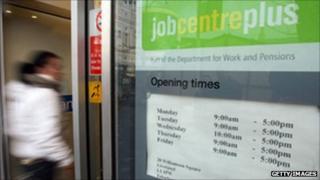 Unemployment in Scotland has continued to fall, according to the latest official figures.
The number of jobless fell by 6,000 between November and January, to stand at 190,000.
The Scottish unemployment rate is now 6.9%, which is below the average of 7.2% for the whole of the UK.
Office for National Statistics (ONS) data also showed employment in Scotland increased by 15,000 over the period, and now stands at 2,561,000.
The number of people claiming Job Seeker's Allowance (JSA), fell by 3,300 from January to 106,800 in February - 30,400 fewer than the same period last year.
Scottish Secretary Alistair Carmichael said: "Creating the environment where businesses can create jobs and get people into employment is central to the government's long-term economic plan to build a stronger, more competitive economy.
"Today's figures show this plan is working for Scotland - that means more people into work and a Scottish economy that is going from strength to strength within the UK."
'Trend of growth'
The Scottish government said the figures showed Scotland was continuing to outperform the UK across all the main labour market indicators, with a lower unemployment rate, higher employment rate and lower economic inactivity rate.
Education Secretary Michael Russell said: "The publication of the labour market figures is another measure of the success of Scotland's economy in 2014 and follows Monday's publication of the Bank of Scotland's jobs market barometer, which was at its second highest-ever level.
"In addition, last week's reports from the Bank of Scotland's Purchasing Managers' Index (PMI) and Federation of Small Businesses, both demonstrated increasing economic confidence among Scottish businesses.
"These surveys point to a sustained trend of growth in Scotland's economy, which is testament to the hard work of firms across Scotland and the policies of the Scottish government to create jobs and sustainable economic growth."
'Good news'
The Scottish Chambers of Commerce described the latest figures as "good news for the Scottish economy".
Chief executive Liz Cameron added: "Against a background of GDP growth and increasing levels of business optimism, many of the key indicators are painting a promising picture.
"Indeed, Scotland has seen the second highest increase in employment rates in the UK over the past year."
But Scottish Trades Union Congress (STUC) General Secretary Grahame Smith said the data confirmed "the very slow pace of recovery" in Scotland's labour market.
He added: "The pace of jobs growth is far too slow to give Scotland's 190,000 unemployed people any comfort that they will soon find a job. Indeed the employment rate hardly shifted over the second half of 2013."