EEW Energy Services wins Indonesia offshore contract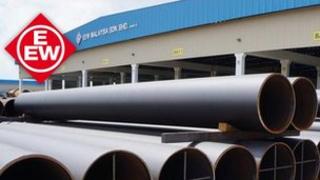 The Glasgow base of steel supplier EEW Energy Services (EEW ES) has a secured a £1.6m contract for an offshore project in Indonesia.
EEW ES, which focuses on the oil and gas and renewable energy sector, will produce high-grade steel for a new wellhead platform off East Java.
The deal was signed with Jakarta-based maritime and engineering group PT Pal.
EEW ES, which is largely funded by Germany's EEW Group, opened its first UK base in Glasgow last November.
Its headquarters are located in Singapore.
EEW ES chief executive Michael Craig said: "We are delighted to announce the contract win.
"In just a few months since opening our UK base in Glasgow, our strength and capability is being realised.
"We will complete and fast-track the supply of all steel required by June, using our manufacturing mills in Korea and Germany.
"Our Glasgow and Singapore bases will back-up the supply of high quality steel materials for accelerated manufacture of the platforms."