Smirnoff brand tops Scottish off-trade sales list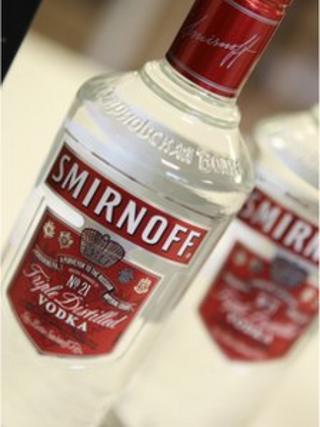 Diageo-owned vodka Smirnoff has become Scotland's biggest selling take-home alcohol brand, according to analysis by Scottish Grocer magazine.
Using market research data by Nielson, Scottish Grocer found Smirnoff Red Label achieved £68m in sales last year.
It took top spot from another vodka, Glen's, which was the most valuable brand for the previous five years.
Smirnoff became number one after sales rose by 1%, while Glen's fell by 5% to £65m.
The top 50 most valuable brands in terms of Scottish take-home drinks saw strong performances from Hardys, Kumala and Russian Standard.
Strongbow was the dominant cider brand, with sales of more than £25m by value - more than a quarter of all cider off-trade sales in Scotland.
But the strongest growth came from Swedish cider Kopparberg.
Two flavours in its range made it into the top 50 for the first time - with Kopparberg Mixed Fruit recording growth of 50% to take it to £5.8m in sales.
Kopparberg Strawberry & Lime took 50th position after recording growth of 75% - the highest in the top 50 - with sales of £4.4m.
Tennent's, which until six years ago was Scotland's biggest selling alcohol brand, remained the country's most valuable beer for the off-trade.
The C&C Group brand took third spot in the top 50, with a 12-month sales value measured by Neilson at more than £59m.
The Famous Grouse, owned by the Edrington Group, was the top-selling whisky brand, with sales of just under £30m. It was followed by Whyte & Mackay (£23m) and Bell's Original (£17.4m).
Buckfast Tonic wine took 16th spot in the top 50 with a 1% rise in sales to £13.1m.