Scots business expectations 'high' as economy grows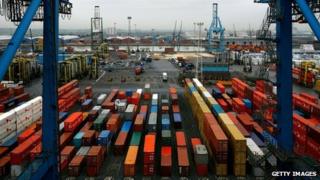 Scotland's economy continued to strengthen at the start of this year, according to the Bank of Scotland's latest Business Monitor.
The survey of firms found their expectations for the next six months were at their highest level since before the recession in 2007.
The bank said the service sector and manufacturers both showed signs of improvement.
The report also said exports were set to rise, after a dip last year.
The monitor gathers data about business trends, market conditions and financial factors each quarter using a questionnaire completed by around 400 businesses.
Optimistic outlook
It showed that in the three months to the end of February, 41% of firms surveyed increased turnover, 36% experienced static turnover, and 23% experienced a decrease.
The figures represented an improvement on the previous quarter, and a substantial improvement on the same quarter one year ago.
Volumes of repeat business also remained at high levels in the three months to the end of February, having risen strongly in the previous quarter.
Export activity plunged downwards at the end of the year 2013, but recovery is now evident, the latest monitor suggested.
The report also said that in 2012 firms' assessments of their immediate prospects in the next six months swung upwards and downwards. However, views were on a rising trend throughout 2013.
Donald MacRae, chief economist at the Bank of Scotland, said "The surge in economic activity identified in summer 2013 has been maintained through autumn and winter, with the latest quarter showing the second best result in six-and-a-half years.
"Expectations for 2014 are at their highest level since mid-2007, suggesting the recovery will continue throughout 2014 and will become increasingly embedded.
"An increase in investment by firms would further enhance the recovery."