Scottish Green Bus Fund boosts eco-friendly bus purchases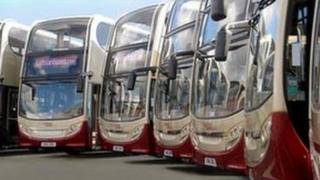 Scotland's eco-friendly bus fleet is set to expand with extra funding from the Scottish government.
The funding is from the Scottish Green Bus Fund, which has helped bus firms purchase more than 70 low-carbon buses.
Around £2 million has been awarded to Stagecoach East Scotland and Lothian Buses towards the cost of buying new eco-friendly buses.
The additional funding is part of the Scottish government's commitment to reducing Scotland's carbon emissions.
Transport Minister Keith Brown said: "I would like to congratulate the successful bidders of this year's Scottish Green Bus Fund which encourages the purchase of low-carbon vehicles.
"The Scottish Government is committed to public transport and to our ambitious climate change target of reducing carbon emissions by 42% by 2020."
Mr Brown added: "Low-carbon transport benefits us all through an improved environment and a strong public transport network plays a part in this, as well as cutting congestion on the roads and making them safer for all users."
The new buses deliver 30% reductions in greenhouse gas emissions compared to typical diesel-powered buses, along with significant fuel savings.
Stagecoach UK's Regional Director for Scotland Sam Greer said: "We are a leading investor in hybrid vehicles across Scotland and the UK and we're pleased to be introducing these new vehicles.
"Sustainability is at the heart of our business and we believe that, by investing in new cleaner, greener vehicles we can continue to attract more people on to our bus services to help reduce pollution and congestion in our towns and cities."
Stagecoach East Scotland will operate 18 of the new buses with the remaining buses 14 added to the Lothian Buses fleet.