North Sea costs 'must be reduced', PwC report warns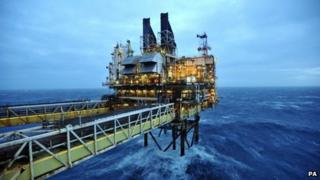 The North Sea oil and gas industry needs to reduce costs by billions of pounds to remain competitive, a report has warned.
Professional services firm PwC said "a new vision and new ways of working" were urgently required for the sector.
It argued it was "essential" companies operating in the North Sea work together and collaborate.
PwC said this would help the industry to "plan more effectively and further into the future".
It also urged the industry to grasp the "rich source of opportunity" offered by decommissioning, saying this could be worth about £35bn.
The views were highlighted in PwC's latest Northern Lights report on the sector.
Kevin Reynard, PwC's office senior partner in Aberdeen, said: "We believe the North Sea has a huge future, but there is much work still to be done to secure this value and cement its position as a global oil and gas hub.
'Sleep-walking'
"It's vital that we take a more strategic and integrated view to help extend the life of the North Sea - for everyone involved and for future generations. If we choose not to change, then we risk sleep-walking into an early sunset.
"It's time to get started if we want to secure a vibrant UK North Sea for the next 40 years."
The report called for a broad strategic framework to be developed for the industry to "create certainty under the auspices of a new independent regulator", as proposed by Sir Ian Wood's review of the oil and gas sector.
PwC stressed: "A new vision and new ways of working are urgently required.
"We believe that, for the UK North Sea to remain competitive, we need to reduce costs significantly - billions of pounds of costs - as well as increase production efficiency. To achieve this, we must engage, collaborate and build trust as an industry."
'Urgent need'
Increasing costs were said to be a "defining feature of the UK North Sea", with the report warning these were "likely to rise still further" as firms tried to extract remaining oil and gas reserves.
But PwC added: "We believe that by adopting collaborative working practices and working with a 'one business' mind-set, the UK North Sea supply chain can develop sustainable long-term strategies for competitive advantage.
"There has never been a more urgent need to do so."
The report argued that supply chain costs could be reduced by up to 10%, boosting profitability by as much as £3bn.
It also said the decommissioning could "turn a potential loss of £35bn into a new business model of opportunity that has yet to be fully exploited".
'Clear plan'
A spokeswoman for the UK Department of Energy and Climate Change said the government had "set out a clear plan which will help get the best of the North Sea oil and gas reserves".
"We are fast tracking the recommendations in Sir Ian Wood's report, helping industry and government work together to recover as much oil and gas as possible while pumping £200bn into the economy," she said.
"In his budget, the chancellor announced that the government will review the fiscal regime for the for the UK Continental Shelf to ensure it continues to incentivise economic recovery as the basin matures, working with the new oil and gas arm's length body."
'Huge potential'
The Scottish government welcomed the report, saying it "confirms both the huge potential for Scotland's oil and gas industry and also our previously stated view that decommissioning the North Sea's oil and gas infrastructure represents a rich source of opportunity".
A spokeswoman added: "With Scottish oil and gas companies already enjoying a well-deserved world class reputation, operating in over 100 countries and achieving international sales of £8.2bn in 2011, Scotland is ideally placed to develop infrastructure and capability for successful decommissioning which can then help Scottish companies maximise business opportunities in other key areas, including the Gulf of Mexico, west of Africa and the South China Sea."