Campbell & Kennedy to tackle Freeview 4G disruption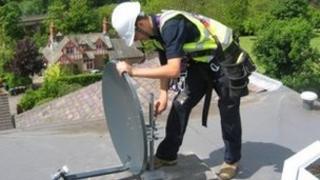 Technology installation firm Campbell & Kennedy (C&K) has won a major contract to tackle any disruption to Freeview TV services as a result of the roll-out of the 4G mobile network.
The company will cover Scotland and Northern Ireland for at800, which was set up by UK mobile operators.
It was created to ensure all UK viewers continue to receive Freeview when 4G at 800 MHz is activated in their area.
Some TVs and set-top boxes with Freeview have been disrupted by 4G.
The 800 MHz frequencies used by some 4G services are next to those used for Freeview.
Under the deal, C&K engineers will install filters at households affected by 4G interference as well as communal TV systems on behalf of property managers.
The value of the contract was not disclosed but at800 has a total UK budget of £180m to run the "mitigation" scheme until one year after 98% of the UK population can receive 4G at 800 MHz.
C&K, which is based in Clydebank, West Dunbartonshire, is one of Sky's main contractors in Scotland and Northern Ireland.
It has four divisions, including electrical contracting services, fire safety services, green energy installation services as well as digital TV technology solutions.