Marston's announces Scottish pubs expansion plans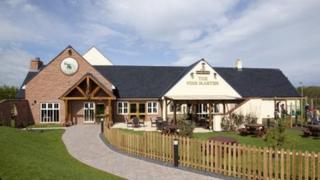 UK pub operator and independent brewer Marston's has announced long-term plans to boost its footprint in Scotland.
The company said it aimed to open six new pubs north of the border in the next year, and was looking to open an average of five new pubs each year after that.
It has drawn up 92 "target locations" for its countrywide rollout.
The announcement came one year to the day since Marston's opened its first pub in Scotland.
The company said its long-term expansion plans represented an annual investment of £15m, creating more than 200 new jobs per year plus construction jobs at each site.
Marston's currently has four pubs in Scotland - in Dunbar, Braehead in Renfrewshire, Danderhall in Midlothian and Forfar in Angus.
Within the next 12 months, it expects to open sites in Armadale in West Lothian, Balloch in West Dunbartonshire, Dumfries, Dunfermline, Port Glasgow in Inverclyde and Ravenscraig in North Lanarkshire.
Marston's is about to start building its first Marston's Inn, which will be adjacent to the first pub it opened in Scotland a year ago - the Pine Marten in Dunbar.
A second hotel will be built later this year beside a new pub at Loch Lomond Shores, Balloch.
'Strong year'
Steve Roberts, head of acquisitions for Marston's, said: "Our first year of trading in Scotland has been strong and we are now ready to step up our search for new sites right across the country.
"We are on the lookout for locations in our target towns and cities that front main roads, are on retail parks or are close to residential developments of more than 500 homes.
"We believe our pub/restaurants are quite a distinct offer in Scotland and the popularity of the ones we have opened so far has encouraged us to expand further our search for new sites."
He added: "Our search for new locations is going to take us across the length and breadth of Scotland.
"From the Highlands down to the Borders we will be looking for sites that fulfil our criteria and will enable us to hit our ambitious growth targets in the country."
Marston's currently operates about 2,200 pubs and bars across Great Britain.