Aggregates firm Breedon forced to sell two Scots plants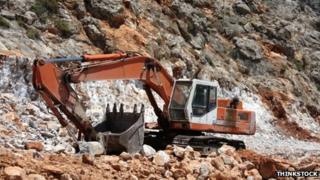 UK competition authorities are forcing an aggregates firm to sell two of its plants in the north east of Scotland.
The Competition and Markets Authority (CMA) said Breedon Aggregates must sell an asphalt plant in the Aberdeen area and a ready-mix concrete (RMX) plant in the Peterhead area.
It will also face a price control for asphalt produced in the Inverness area.
CMA said the measures were to "preserve competition and protect customer interests".
The ruling follows an inquiry into Breedon's acquisition of Aggregate Industries UK a year ago.
The purchase included 11 aggregate quarries, four asphalt plants, nine RMX plants and two concrete block factories based across 18 sites in the north of Scotland.
Before the acquisition, Breedon was the largest supplier of these products in north-east Scotland.
'Loss of competition'
The CMA found that Breedon and Aggregate Industries were previously competitors across north-east Scotland and that asphalt customers in Aberdeen and Inverness, as well as RMX customers in Peterhead, could face higher prices due to the loss of competition and lack of alternative suppliers.
To address these concerns, the CMA will now require Breedon to sell either the Tom's Forest or Craigenlow asphalt plant and one of the Peterhead or Stirlinghill RMX plants to a competitor approved by the CMA.
Because the competition concerns in relation to the asphalt market in Inverness are expected to be short term, asphalt supplied by the company will be subject to a price control in that area until 2018 at the latest.
Aggregates, asphalt and RMX are used in construction as well as road-building and maintenance.
CMA deputy chairman Simon Polito said: "The markets for these products are local so the loss of a competitor in even a relatively small area matters - particularly when the cost and proximity of the production site are the most important factors for customers and in a market where most prices are negotiated."