Market needs more homes to meet demand, survey suggests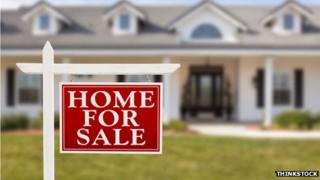 House-buying activity is picking up in more areas of Scotland but the market is still being hampered by a lack of available stock, according to a survey.
The Royal Institution of Chartered Surveyors (Rics) found demand for homes remained steady last month, with a net balance of 15% more surveyors reporting an increase in new buyer inquiries.
But it said new instructions from sellers continued to fall.
Rics warned the mismatch meant further upward pressure on prices.
Its Residential Market Survey for March found a net balance of 32% more surveyors saw prices rise rather than fall across Scotland.
However, Rics said price rises were not expected to deter buyers, with 46% of respondents predicting an increase in sales during the next three months.
'Major concern'
Rics Scotland director Sarah Speirs said: "Now that the housing market recovery is under way and mortgage finance is more readily available, buyers seem to be looking to test the market across Scotland.
"That said, it is a major concern that we are not seeing enough houses coming onto the market to meet this demand.
"For the market to operate effectively, we desperately need more homes in areas where people want to buy and want to live."
She added: "Until this happens we're likely to see prices to continue to increase and it is going to be ever harder for many first-time buyers to enter the market."
Solicitor survey
On Wednesday, a separate survey of solicitor estate agents in Scotland suggested house prices and property sales were set to rise in the next year, driven by strong demand for mid-market family homes.
The survey, which was conducted by SPC Scotland, found eight out of 10 solicitors active in the property market forecast a continued rise in sales.
Two-thirds said that they also expected prices to rise, but the majority said that they believed the rise would be less than 5%.
Almost a third of 175 respondents were more cautious and expected no change in prices at all.
SPC Scotland represents many solicitor property centres throughout Scotland at a national level.