Scottish economy: Manufactured exports fall by 4%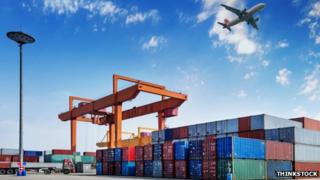 Scottish manufactured export sales fell by 4% in the fourth quarter of last year, according to official figures.
The biggest contraction was seen in the refined petroleum, chemical and pharmaceutical sector, which saw sales slump by 20% on the previous quarter.
The drop was attributed to the temporary closure of the Grangemouth petrochemical site during an industrial dispute late last year.
Food and drink exports also contracted by 5.5%.
The latest figures showed the biggest quarterly fall since 2009.
However, when comparing the latest four quarters to the previous four quarters, manufactured export volumes rose by 1.9%.
The Scottish government said it was the fastest annual growth in Scottish manufactured export sales since 2008.
Exports index
According to the latest Index of Manufactured Exports, sales of textiles, clothing and leather fell back into negative territory (-5.3%), following a strong rise in the previous quarter.
Engineering and allied industries enjoyed growth of 1.5%, led by expansion in transport equipment (+17.6%).
This more than offset quarterly falls in mechanical engineering (-3.5%) and electrical and instrument engineering (-2.8%).
On a rolling-annual basis, there were increases in export volumes from non-metallic products and metals and metal products.
The food and drink sector continued to grow annually (+2.4%), while growth was negative in other sectors including wood, paper and printing (-4.1%), and engineering and allied industries (-2.9%).
'Welcome news'
Finance Secretary John Swinney welcomed the new figures.
He said: "The annual growth in manufactured exports - the fastest seen since 2008 - is welcome news for Scottish businesses and the wider Scottish economy.
"This comes in the same month employment levels in Scotland surpassed pre-recession levels, reaching a record high, and the latest GDP figures show sustained economic growth over the last seven quarters, demonstrating the continued recovery of Scotland's economy.
"While this annual growth in exports is welcome news, the 4% fall in exports over the most recent quarter shows the continued challenges facing Scotland in the global marketplace, where the muted recovery in the euro area and volatility in emerging economies continues to have an impact across a range of export areas."