Accountant in Bankruptcy: Scottish corporate failures soar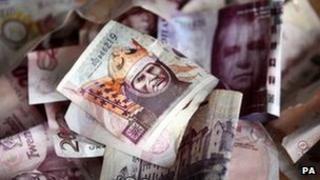 The number of companies going bust has increased by more than 70% over the year, according to official figures.
The Accountant in Bankruptcy (AiB) figures showed 244 Scottish companies failed during the first quarter of this year, compared with 143 during the same period in 2014.
The numbers increased by 6.6% on the fourth quarter of 2013.
The number of personal insolvencies fell by 14%, compared with the same time a year ago.
Enterprise Minister Fergus Ewing said: "Another drop in the number of personal insolvencies is welcome, especially with the figures showing a general decline since 2008-09.
"£8.1m has been repaid through the Scottish government debt arrangement scheme this quarter, with a total of £30m repaid in 2013-14, helping to recycle funds into the economy.
"It is encouraging to see that 10 times more people have chosen to repay their debts under this statutory scheme than the number seven years ago."
'Triple challenge'
The rise in the number of business failures was described as unwelcome but predictable by Bryan Jackson, business restructuring partner with BDO.
He added: "Though the economy is in recovery, many Scottish businesses are still struggling to cope with the triple challenge of rising inflation, staff costs and slow spending.
"Unless troubled businesses see a perceptible upturn from the wider recovery, many will be left fighting to survive.
"Ironically, it isn't surprising to see more corporate failures as the economy picks up."
Yvonne Brady, head of corporate restructuring at law firm HBJ Gateley, said it was not uncommon for struggling companies to "run out of steam" when emerging from a recession.
She added: "A lot of companies have been doggedly surviving over the last year, despite ongoing challenges in collecting invoices and recovering debt, but many of them have been walking a very tight line."