Glasgow 2014: Scottish government publishes legacy report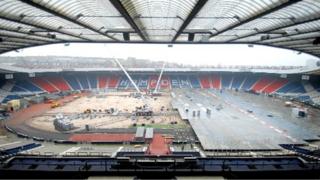 Building and revamping Glasgow 2014 Commonwealth Games venues and the Athletes Village has resulted in 1,000 jobs on average in each of the past six years, a report has suggested.
The preparation work has also boosted Scotland's economy by £52m each year, according to the Scottish government.
The figures were revealed in its latest legacy evaluation report.
Commonwealth Games Minister Shona Robison described progress as "excellent".
The latest study found building firms had won £313m worth of contracts relating to the Games so far, of which £257m (82%) had been secured by Scottish companies.
The report's release coincided with a visit by Ms Robison to Canada this week.
She is there to promote the Games and Scottish culture, tourism and heritage, as the Queen's Baton Relay travels through Ottawa, Toronto and Hamilton.
Ms Robison said: "Legacy is central to all we do around the Games.
"That is why I am delighted that today's report charts the excellent on-going progress of the significant Games legacy which is already embedded in Scotland.
"Such evaluations are not only vital for the Scottish government and its partners, but will be a useful resource for future host cities, and those like Edmonton which are in the running."
The Scottish government published its first 2014 Games legacy report in 2012.
A post-Games legacy assessment is due in autumn 2015, with subsequent updates in 2017 and 2019.