Scottish builders welcome fall in bankruptcy numbers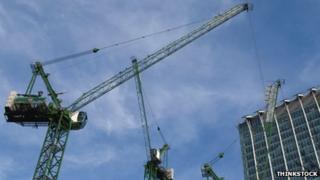 The Scottish Building Federation (SBF) has welcomed new figures showing a 33% fall in the number of construction firms going bust in the past year.
The Insolvency Service revealed that a total of 87 Scottish building companies were forced into compulsory liquidation in the 12 months to the end of March.
That compares with 129 during the previous year, and 198 in 2011-12.
The federation said it hoped the "positive momentum" shown by the figures could be sustained.
SBF managing director Vaughan Hart said: "It's positive to see the number of building companies going bankrupt has continued to fall over the past 12 months.
"I hope this positive momentum can be sustained as the industry continues to recover.
"That said, many construction companies are continuing to face challenges around cash flow, late payments and restrictive bank lending."
He added: "We need to see efforts redoubled to tackle these problems within the industry and across the economy as a whole.
"That will help to put the industry on a firmer footing for the long term and ensure the number of construction companies forced out of business continues to decline."
'Extremely disappointing'
In a separate development, research from the Federation of Master Builders (FMB) has suggested that the small and medium-sized construction sector in Scotland is trailing behind the rest of the UK.
A survey of members found that while the other UK nations enjoyed a fourth consecutive quarter of positive results, Scotland had slipped back into negative territory after a single quarter of growth.
FMB national president Jim Gilmour, said: "These results are extremely disappointing for the Scottish economy and show that we are the last UK nation to pull ourselves out of the economic downturn."
Last week a report by the Royal Institution of Chartered Surveyors (Rics) warned skills shortages were threatening the pace of recovery of Scotland's construction industry.
It found members reporting the highest upturn in workloads since 2007 in the first quarter of this year.
Rics said the private housing sector was driving the improvement.
But it warned skills shortages applied across many trades and in most parts of the country.