Standard Life reports 50% drop in UK annuity sales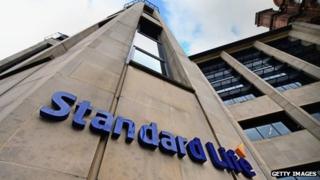 Standard Life has reported a 50% drop in its UK annuity sales, following a change in pension rules announced in the chancellor's Budget in March.
Under the new rules, those reaching retirement age can draw their entire pension in one go if they wish, and are not required to buy an annuity.
The fall was revealed in the group's first-quarter results.
They showed fee revenue increased by 12% to £374m, while group assets under administration rose 1.5% to £247.8bn.
In a statement, the Edinburgh-based pensions and savings group said: "Changes to annuity regulations in the UK resulted in a reduction in our UK annuity sales of around 50% following the Budget announcement.
"While it will be some time before long-term trends become clear, the negative profit impact of the changes will reflect the relatively small size of our annuity business."
Chief executive David Nish said: "Standard Life has made a good start to 2014 as we continue to focus on providing value for money for our customers, supporting their savings needs and helping them make well informed choices."
"Standard Life Investments maintained its excellent investment performance and attracted significant third party inflows.
"Eighty percent of these flows are from outside the UK demonstrating our broadening geographical reach."