Deloitte: Oil activity 'to remain at steady low'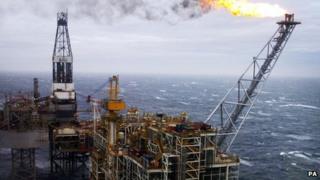 Drilling and deal activity on the UK Continental Shelf (UKCS) will remain at "a steady low" for at least the next year, a new report has suggested.
Business advisers Deloitte said poor weather and high costs had already impacted on the amount of exploration and appraisal (E&A) work carried out by operators in the first quarter.
It found a total of 12 E&A wells were drilled during the period.
That was five more wells than in the previous quarter.
However, it was one fewer than the same period last year.
The report, which details activity across North West Europe over the first three months of 2014, also found fewer deals were completed, with 10 reported this quarter compared with 19 a year ago.
This was also eight deals fewer than in the final quarter of 2013.
Farm-ins, where one company takes a stake in another company's field, remained the most common type of deal, making up 50% of the total for offshore UK.
'Ongoing challenges'
Graham Sadler, managing director of Deloitte's Petroleum Services Group, said the drop in deals could be due to a gap in price expectations between sellers and buyers.
He added: "It is very likely that what we're seeing is a result of the continuing higher operating costs and the ongoing challenges of a mature region.
"These could be having a knock-on effect on deal flow, since sellers might be seeking a higher price than buyers may be willing to pay."
The report also suggested operators were showing more caution, with only two gas fields starting production in the quarter and one condensate field being approved for development.
It argued that the UK government's support of recommendations made in Sir Ian Wood's report - UKCS Maximising Recovery Review - along with the fiscal review announced in Chancellor George Osborne's Budget last month, were "positive steps" which might lead to measures being put in place to encourage activity offshore.
However, it added that while the recommendations of the Wood Review were good news for the industry, tax changes confirmed in last month's Budget could lead to additional costs for North Sea operators.
The changes include "bareboat" chartering, which covers companies leasing rigs and offshore accommodation on the UKCS.