National Receptionists Day: Working on a warm reception
By Gillian Sharpe
BBC Scotland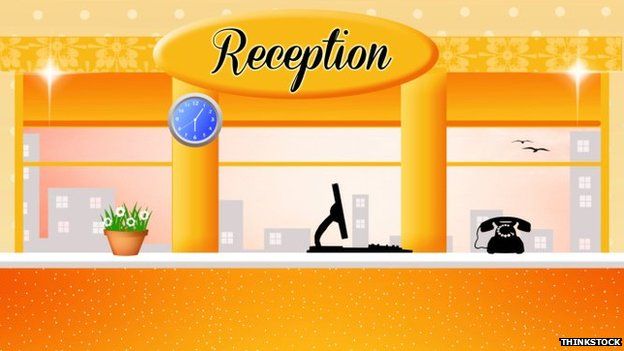 Commonly described as "the face of a company", a receptionist is often the first person a customer will see when they call in on a business.
Their role is being celebrated on National Receptionists Day, which aims to raise awareness of what they do and the value they can add to a company.
Launched in the United States in 1991, the day is now marked in countries such as the UK, Canada, Australia and New Zealand.
The entrance to the BBC's headquarters at Pacific Quay in Glasgow is busy throughout the day and beyond with people arriving to be interviewed, or watch a show being recorded - parcels and packages arrive at all times.
"It's different every single day, you don't know what's coming in the door," explains BBC receptionist Karen Petrie, who's sitting behind a sleek, dark desk.
"You get your little lulls every now and again but it's pretty much busy. Us and the security guards are the first people that people see and you've got to make an impression on people when they first come in the door."
Offices in general have of course changed radically in recent years and that can mean the role of the receptionist involves much more multi-tasking than it used to do.
Caroline Meikle, of Pitman Training, which is one of a number of companies which runs courses for professional receptionists, describes it as "tough and challenging", citing dealing with difficult customers, keeping eye contact with queues of people and the need for great communication skills.
"There's much more pressure on the front desk person to be the face of the company," she continues "and to be unflappable, almost like a PA role as well."
She adds that the skills a professional receptionist needs include touch typing, so that they can accurately take down messages, and learning calendar and appointment making.
Some argue though that to take the best advantage of what a receptionist can bring to a company, as well as all of the above, what is actually needed is some sales training.
"For example when I phone a number and I'm interested in something, I want a human being at the other end of it to greet me," says Doug Tucker, who owns sales training specialist Sales Commando.
"Then, if I say I'm interested in viewing a house, in a product or a service, I want just a little bit of sales training for that particular receptionist to say: 'Okay Doug, thank you for your enquiry. I'm just going to put you through to so-and-so in accounts - she will look after you, she's a really good person and she's got 15 years of experience in what she does and I think you'll find it beneficial, here you go'.
"A little bit of sales training can make a difference in the customer experience."
Being a receptionist has traditionally been a very female role and for many women it was the obvious career choice.
Edinburgh-based Helen Crow became a receptionist straight from college.
Throughout her working life she has returned to it at various points and always loved it. She is now looking to get back into being a receptionist again and has been studying to increase her skills.
"Everyday, apart from the fact that you're sitting at the same desk, it feels different," she says."
"The first base for anyone coming into an office is the reception. If you've a rotten reception then people can come in angry, so you just make sure that everything is running smoothly in the place and you stop an awful lot of hassle going through to the office as well."
So what makes a good receptionist? Caroline Meikle believes it is basically about communication. She says Pitmain Training has seen a spike in interest in training over the last few months.
"I think it's one of these jobs that if you love people then that's the type of job you should be in, because you're constantly meeting and greeting people," she says.
"Most importantly, the core thing that I keep coming back to is putting the customer first.
"Good listener, good resolution and keeping calm when all around you is not so calm." Then she laughs.
Related Internet Links
The BBC is not responsible for the content of external sites.