Arran Aromatics: Sweet smell of success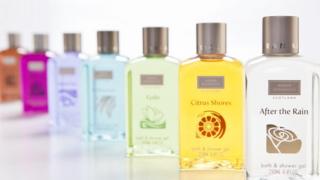 Soap and candle maker Arran Aromatics is celebrating its 25th year, with plans to expand the brand worldwide.
It is easy to forget this company was on the brink of collapse five years ago.
Arran Aromatics was started in 1989 by Janet Russell in her cottage on the island.
A fast-growing business, it soon moved to its current premises at Home Farm.
Janet remains with the company as a brand ambassador but there is a new management team.
Alan Wade has been with the firm for three years, only recently taking up the role of chief executive.
He is in charge of more than 100 employees at the company's manufacturing site on Arran and at a centre at Dundonald in Ayrshire.
He said: "It's quite a straight split of manufacturing on the island so all of the products are sourced, they're are designed, they are formulated they're manufactured and assembled on the island - then the products are moved on to the mainland and in essence we sell and distribute on the mainland."
At any one time about 700 Arran Aromatics products are on sale.
The company has nine of its own shops and sells through department stores like John Lewis and House of Fraser.
It also supplies hotels including the DeVere Group, which owns Cameron House. It exports to about 20 countries including Russia and the Middle East.
At the beginning of 2009, Arran Aromatics' future was very much in doubt. After looking at the books, some corporate advisers called on businessman Iain Pittman.
He clearly remembers the day: "I was introduced to the company three days before HM Revenue and Customs (HMRC) was due to foreclose for unpaid PAYE.
"The company got itself in real cash constraints, sales were doing one thing, manufacturing another, and the company just ran out of cash.
"Back in 2009 the whole banking world had imploded.
"The first thing we managed to do after securing a couple of weeks from HMRC was to get support from our bank, which was Bank of Scotland - which it still is - and we were one of the very, very few companies at that time which managed to get an overdraft put in place to support the business."
Firmer footing
The company also got support from Scotland's two enterprise agencies and now, five years later, it is on a much firmer financial footing.
Iain Pittman remains as a non-executive director but fresh faces have been brought in to oversee the next stage of growth.
Underpinning that is a £2.8m investment from the Business Growth Fund. It is being used to modernise many of the firm's systems, including a new website.
Iain Pittam sees that as crucial in developing the brand and selling it overseas.
He added: "Arran Aromatics is a real conundrum. A lot people believe it's a company much bigger than it actually is because of the brand profile it has.
"We've got a fantastic spread and coverage, however when it comes down to hard numbers and sales then we need to move that top line - we don't leverage the brand position that we have and we need to spend more time explaining about the island and about the heritage that Arran Aromatics share."
Alan Wade has ambitions for the company. He hopes to triple turnover in the next five years.
"We want to get the brand known further than the West coast of Scotland," he said.
"We want it to be known in the whole of Scotland, into the UK and overseas.
"It's about turning a £5m family business into a £15m brand."
You can hear more about the Arran Aromatics story by listening to BBC Radio Scotland's Business Scotland programme on the BBC website.