Scottish new car sales lag behind UK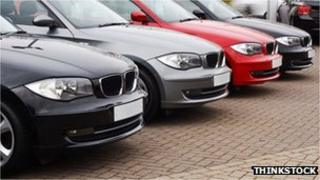 New car sales in Scotland lagged well behind the UK as a whole last month despite a year-on-year rise in registrations, according to industry figures.
Nearly 15,900 cars were registered north of the border in April, a rise of 3.4% on the same period last year.
The UK saw an increase of 8.24%, with more than 176,800 units registered.
In the year to date, Scotland has recorded an increase of about 10.2%, compared with a UK rise of 12.5%.
The figures were released by the Society of Motor Manufacturers and Traders.
The biggest selling car in Scotland in April was the Ford Fiesta, followed by the Vauxhall Mokka and Vauxhall Corsa.
The top selling marque was Vauxhall, followed by Ford and then Volkswagen.
Scottish Motor Trade Association chief executive Douglas Robertson said: "We are pleased that the April figures show a further increase after the record new plate month of March.
"Although the increase is much more modest it does show that consumer confidence remains and we do anticipate that 2014 will at the end of the year show an increase over last year of around 5%.
"Our members showrooms continue to report increased footfall as consumers become more aware of the fuel efficiency of new cars and the consequent reduction in running costs."