RBS to cut number of branch managers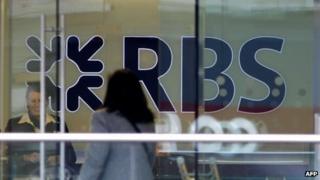 Royal Bank of Scotland (RBS) has confirmed it is to cut about one in five of its branch managers in Scotland.
The move is part of a major shake-up at the group announced late last year by the bank's new chief executive, Ross McEwan.
The bank said the headcount reduction would simplify operations, but every branch would still have a manager.
A total of 58 manager or deputy manager posts will be lost in the move.
In a statement, the Edinburgh-based bank said: "All of our branches will continue to have a branch manager - this change will not affect how we serve our customers.
"This is clearly difficult news for staff affected by these changes.
"We will do everything we can to support them, including seeking redeployment opportunities wherever possible and ensuring that compulsory redundancies are kept to a minimum."
Bank review
Last November, Mr McEwan promised fundamental changes in the bank's customer service.
He revealed that a review of the entire RBS business was under way and that major changes would include introducing new technology and modernising customer service.
Mr McEwan said then that the move was in response to "a seismic shift" in the way people use services, with a 30% drop in the number of branch transactions since 2010.
He argued that new technology would allow the bank to offer "smarter solutions" to its customers.
Earlier this month, RBS - which is 80% owned by the taxpayer - reported pre-tax profits of £1.6bn for the three months to the end of March.
This was almost double the profit recorded in the same quarter a year earlier.
But the bank warned it faced a "tough year" ahead as it continued to deal with the cost of restructuring the business and expected regulatory fines.