Economy continues to expand, Bank of Scotland survey finds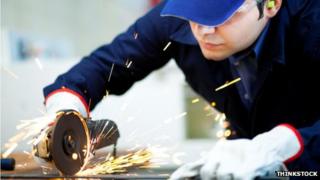 The Scottish economy continued to expand last month albeit at its slowest pace so far this year, according to a survey of company purchasing managers.
The latest Bank of Scotland PMI report indicated growth in both services and manufacturing sectors.
The pace of expansion in output was slower in April than in previous months of this year.
But the bank said faster increases in new business and work backlogs pointed to the economic upturn being sustained.
April's survey also showed slightly faster rises in both input costs and average output prices.
The Bank of Scotland PMI - a measure of combined manufacturing and services business activity - fell from March's 56.4 to 54.8, its lowest reading in the year-to-date.
Any figure above 50 suggests economic expansion.
Bank of Scotland said the latest reading was still consistent with a solid rate of expansion overall.
New business
Both manufacturers and services firms recorded "notable" rises in output.
In contrast to a slight slowdown in output growth, the level of new business placed with private sector firms operating in Scotland rose at a faster rate in April - the most marked since January.
Data suggested that the domestic market was the key driver of the upturn, with new export orders at manufacturers having fallen marginally for the third consecutive month.
Labour market conditions also improved during April, with private sector companies adding to their payroll numbers for the 17th straight month.
The surge in new business in April, coupled with slower employment growth, contributed to a further accumulation of outstanding work.
Service providers noted a sharper acceleration in costs, citing higher average outlays for staff and foodstuffs.
Average output prices in the Scottish private sector economy also increased at a faster rate in April, and more markedly than across the UK as a whole.
Bank of Scotland chief economist Donald MacRae said: "April's PMI was a solid 54.8, indicating continuing growth in the Scottish economy in the month.
"The recovery is broad-based with output growing in both services and manufacturing sectors, accompanied by rising employment and a growing level of new business.
"A strong pound may be contributing to new export orders falling marginally for the third consecutive month."‬