Cairn Energy in oil fields loans deal with BNP Paribas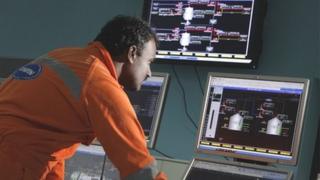 Oil and gas explorer Cairn Energy has announced a $575m (£343m) loan deal with French bank BNP Paribas to help the firm develop two North Sea fields.
The seven-year facility, which BNP will fully underwrite, will be used for the Catcher and Kraken North Sea fields.
The Catcher field development plan is awaiting UK government approval, with first oil targeted in mid-2017. Cairn has a 30% interest in the field.
Cairn said the Kraken development was "progressing on schedule".
First oil from that field, in which it has a 25% interest, is expected by the first half of 2017.
'Key milestone'
Edinburgh-based Cairn's chief executive, Simon Thomson, said: "Cairn has reached a key milestone for the Kraken and Catcher fields in the North Sea.
"BNP Paribas has agreed to fully underwrite a debt facility to part fund the development of the North Sea assets.
"The cash flow from these fields will underpin delivery of future exploration programmes with appropriate capital allocation within a balanced portfolio."
In an interim statement, the company said group net cash stood at $1.2bn (£716m) at 31 March.
By the end of 2017, Cairn expects to have spent about $1bn on its development assets, funded by existing cash resources and debt.
Cairn India
The explorer also said it would assess impairments on the value of its shareholding in Cairn India Ltd by mid-August, when the company reports the next set of results.
India's tax authorities contacted Cairn in January to discuss income tax assessments dating back about seven years.
In March, the company called a halt to a $300m share buyback programme until a review of its Indian income tax was resolved.
Cairn stated: "The Indian income tax department has cited legislation introduced in 2012, with retrospective effect, as the reason for these current enquiries.
"While these are being dealt with, Cairn has been denied access to the value of its shareholding in Cairn India Ltd (CIL), either through disposal or future dividend income, which will be assessed for impairment at the next reporting date."
It said that while "interactions" were ongoing with the Indian tax authorities, Cairn was unable to sell its remaining 10% shareholding, which was valued at about $1.1bn at the end of 2013.
Cairn added it would pursue its tax discussion with the new Indian government to be formed after the election in May.