Cooke Aquaculture of Canada buys salmon firm Meridian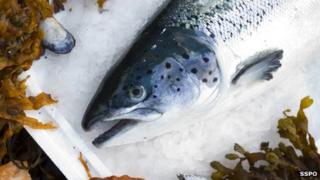 Canadian firm Cooke Aquaculture has bought Scottish salmon farming company Meridian for an undisclosed sum.
Meridian, which operates in Shetland, Orkney and the Scottish mainland, was sold by Norwegian parent company Marine Harvest.
Following the sale, it will be known as Cooke Aquaculture Scotland.
Cooke already runs operations in New Brunswick, Prince Edward Island, Nova Scotia, Newfoundland, Maine, Chile and Spain.
Chief executive Glenn Cooke said: "We believe this investment in the well respected Scottish industry creates value for our entire group and strengthens our European foothold, which already includes Culmarex, our sea bass and bream farming company in Spain.
"The company is highly profitable and is a cost effective producer with a dedicated management team and employee base.
"We will build on their experience and expertise as we further strengthen and grow this company as Cooke Aquaculture Scotland."