Brian Wilson review urges 'clear framework' for exporters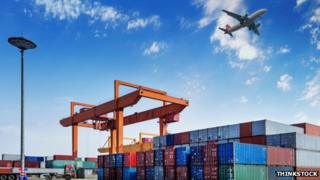 A new "single portal" approach should be taken to help potential exporters in Scotland access advice and support, a review has concluded.
The review, commissioned by the UK government, found all agencies offering support to exporters needed to collaborate better to deliver "a seamless service" to businesses.
It argued a "clear and comprehensible" framework for companies was required.
The report was written by Harris Tweed Hebrides chairman Brian Wilson.
He is also a former UK trade and energy minister.
In his review of the challenges facing Scottish exporters, Mr Wilson said some companies had been frustrated by difficulties in finding advice or support.
Exports portal
He argued that UK Trade & Investment, Scottish Development International (SDI) and the private sector could enter a formal collaboration, called Scottish Exports, which would provide guidance, advice, trade missions and other support for Scottish exporters or businesses looking to export.
The report stated: "It would be axiomatic to this approach that every company entering the Scottish Exports portal would have a named adviser who would remain as its point of reference until an outcome was identified, thereby minimising the frequently-heard complaint of companies 'passed from pillar to post' or experiencing a lack of follow-through after initial contact."
It added: "The landscape is further confused by the existence of a plethora of other bodies, all of them with a stake in the promotion of exports.
"There are local authorities, development agencies, chambers of commerce, trade associations, as well as a venerable organisation like the Scottish Council for Development and Industry.
"All have legitimate roles to play but it is essential that they should do so within a framework that is clear and comprehensible to the businesses that they are seeking to serve.
"It became clear to us that this is often at odds with the reality."
The review recommended that working links between UKTI and SDI should be clarified and regularly reviewed by the two governments to ensure that both were working "flexibly".
It also recommended that an audit of skill shortages should be carried out in consultation with a cross-section of exporting companies.
The review suggested Scotland's Further Education colleges and universities should be encouraged to develop courses or course modules which have a specific international trade focus.
'Practical proposals'
Commenting on his report, Mr Wilson said: "Scotland has many great exporting companies. We just don't have enough of them and this report puts forward practical proposals for ensuring that public support for potential and existing exporters is best delivered through a single, integrated effort.
"Much of what the report proposes is applicable beyond the constitutional debate.
"However, all our major exporting sectors have stressed the importance to them of currency union with the rest of the UK, effective commercial diplomacy and a global network of embassies and consulates."
He added: "The report is very positive about the work of Scottish Development International which properly focuses on well-defined markets and sectors.
"But we need to ensure that companies which do not match these criteria can also draw on the full range of support which is available through UKTI and other agencies."
Scottish Secretary of State Alistair Carmichael said: "The UK's global reach and extensive diplomatic, trade and consular network has helped create many Scottish exporting success stories.
"However, Brian's report identifies that all agencies offering support to exporters need to work better together to deliver a seamless service to businesses, if they are to maximise success.
"Once we have had a chance to study Brian's proposals we will publish a government response to this review in due course."
Global Connections
Responding to the review, Enterprise Minister Fergus Ewing said: "Our Global Connections survey shows that Scotland's international exports were worth £26bn in 2012, up 5.9% on the previous year and up 32% since 2007. Meanwhile, UK trade statistics show that exports from the UK as a whole only increased by 0.5% between 2011 and 2012.
"Independence would provide Scotland with the powers required to boost Scotland's export performance still further and build a more outward looking, innovative and resilient economy.
"Scotland would be able to link up industrial, trade and foreign policy and all export support services would be designed and delivered with Scottish companies in mind."
Mr Ewing added: "Scottish government analysis estimates that a 50% increase in the value of Scottish exports could boost output by around £5bn and create over 100,000 jobs in the long-term."