International traffic lifts Glasgow and Aberdeen airports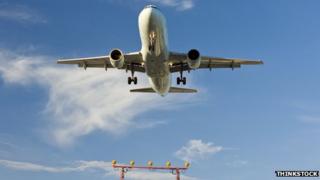 Glasgow and Aberdeen have become the latest Scottish airports to report strong passenger growth driven by soaring international traffic.
Glasgow Airport handled more than 693,000 passengers in May, a rise of 4.3% on the same month last year.
Domestic traffic was up by 1.6% while international passenger numbers climbed by 6.9%.
Aberdeen also cited international growth as a driver for a 6.7% increase in traffic last month.
On Tuesday, Edinburgh Airport said new international routes lifted its passenger count.
At Glasgow, growth was driven primarily by Thomson, Lufthansa and KLM adding capacity on European routes.
Virgin Atlantic and US Airways added capacity on their North American routes, while demand for flights to London continued to drive domestic growth.
Games countdown
Amanda McMillan, managing director of Glasgow Airport, said: "With less than 50 days to go until the opening ceremony of the Commonwealth Games in Glasgow, our focus now is to ensure that our multi-million pound investment programme is completed in time.
"The check-in hall is looking fantastic and the improvements we are making to the international arrivals area are well under way."
Last month, a total of 327,469 passengers used Aberdeen Airport.
It recorded a 7.4% increase in fixed-wing passengers and 3.2% in the helicopter sector.
Managing director Carol Benzie said: "The first few months of this year have been strong for the airport and to be able to announce that trend continuing is very encouraging.
"We have seen growth in both the domestic and international markets - in fact international growth has performed particularly well."