Scottish housing demand higher than supply, says Rics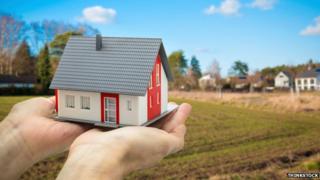 A continuing lack of properties in the Scottish housing market has resulted in increasing prices, according to surveyors.
The Royal Institution of Chartered Surveyors (Rics) found that the number of homes for sale remained behind new buyer demand for properties.
In total, 31% of surveyors questioned reported an increase in house prices.
The survey also found that greater restrictions on mortgage lending had also cooled the number of purchases.
Figures within the survey also showed that the average Loan to Value (LTV) ratio in Scotland among first time buyers dropped to 86% in May, but remained more resilient among other types of borrowers.
Sarah Speirs, Director Rics Scotland, said: "The lack of supply teamed with continued growth in demand is resulting in higher prices across the country.
"There is some evidence to suggest that the Mortgage Market Review (MMR) has contributed to a modest tightening of the funding market. Despite this, the pattern looks set to continue in the short term, with a net balance of 32% of respondents predicting an increase in sales during the next quarter."
She said that efforts were being made to resolve the lack of property arriving onto the Scottish housing market.
"The Scottish Housing Commission will publish its report on the Scottish housing market in July.
"It will make practical recommendations to public policy makers and industry leaders to help improve Scotland's housing market across all tenures. This will include addressing the current lack of supply within the market".
Surveyors are also predicting more modest growth for the Scottish housing market over the next year with expectations for house prices dropping from 3.2% to 2.2% - the lowest increase since November 2013.
During the same period the rental market enjoyed a strong month with 44% of agents questioned predicting rent prices to rise over the summer.