Glasgow tartan carpet maker Stevens & Graham signs US deal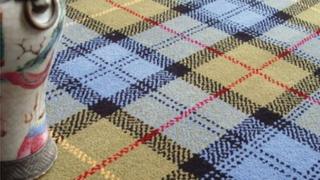 Tartan carpet maker Stevens & Graham has signed an exclusive sales agreement worth up to $1m (£590,000) a year with an American distributor.
The Glasgow firm tied up the deal with New York-based Stark, which distributes to North American interior designers.
Stevens & Graham uses freelance weavers to create its tartan-designed products, which are then manufactured in England.
The business was acquired last year by floor coverings entrepreneur John McIlvogue.
Mr McIlvogue said: "The contract with Stark is the first of what I believe will be a number of new overseas distribution contracts which recognise the legacy of the Stevens & Graham brand and mark a new, expansionist phase in the company's history."
Stark's general manager, Ed Haleman, added: "We have agreed with Stevens & Graham that it will hold a minimum of 24 tartan carpets in stock, including Black Watch, Hunting Stewart, Wallace and McLeod.
"We are convinced that this is a win-win-win deal for everyone concerned and we expect to order at least $1m worth of UK-manufactured tartan carpets in 2014/2015 and, we believe, significantly more over the next few years."
Stevens & Graham was established in 1947 and specialises in supplying carpeting to the hotel, golf club and retail market.
In May this year, it fulfilled a $100,000 contract to produce tartan carpeting for upmarket clothing chain Brooks Brothers' flagship store in New York.