Smaller firms in Scotland 'bullish' on overseas sales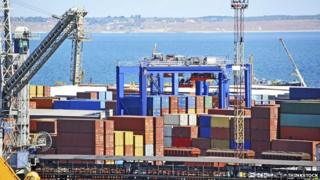 Smaller firms in Scotland are bullish about their international prospects over the next 12 months as a result of improving economic conditions at home, according to a Clydesdale Bank report.
It suggested a third of Scottish small and medium-sized businesses (SMEs) planned to start exporting or increase their overseas sales in the year ahead.
Overseas sales currently account for 24% of turnover for existing exporters.
That figure is expected to grow to 26% over the next 12 months.
More than 150 Scottish businesses took part in the bank's survey.
The Scottish government has set a target of increasing the value of Scottish exports abroad by 50% by 2017.
In 2012, the value stood at £26bn - a 5.6% increase on the previous year.
'Quality and innovation'
Scott McKerracher, a regional director for business and private banking at Clydesdale Bank, said: "Scottish products and services are recognised globally for quality and innovation.
"Our businesses have a long and rich history of exporting to overseas markets.
"We know that Scottish businesses are feeling more confident in the UK economy and in their own ability to grow with it.
"Using improving domestic conditions as a springboard, more businesses will look to develop new products and create jobs in a bid to make a bigger global impact."
Trade body Scottish Development International welcomed the findings.
Chief executive Anne MacColl said: "International trade is increasing and markets are becoming more open.
"That's why as well as focusing on our traditional trading partners such as the US and Europe, which are particularly important for new exporters, we are also expanding our global footprint to help facilitate new international opportunities in faster growing markets.
"Last year we supported more than 2,000 Scottish businesses in their international trade efforts and there's undoubtedly enthusiasm for Scottish products and services worldwide."