Scots firms urged to step up cyber security measures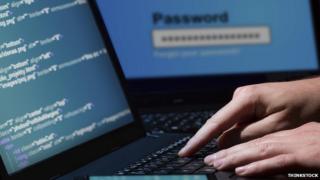 Scottish firms are being urged to step up security measures to prevent their cyber supply chain being hacked.
The warning was issued by the Scottish Business Resilience Centre (SBRC).
SBRC said a single supplier who was temporarily shut down as a result of a cyber attack could cause "major issues" for customers using its services as part of the supply chain.
The disruptions could include loss of vital customer details, it added.
A recent survey by PwC found a fall in the number of information security breaches affecting UK businesses over the last year.
However, it also suggested that the scale and cost of individual breaches had almost doubled.
The survey found 81% of large organisations suffered a security breach, which was 5% lower than a year earlier, while the number of small businesses reporting a breach also fell slightly.
But the average cost of an organisation's worst breach rose for the third consecutive year.
SBRC cyber security consultant Oren Benshabat said: "Hackers who get into a company's network could bring a business to its knees with just a few clicks of a mouse.
"When people think of the supply chain they often just think about manufacturers, wholesalers and retailers, but recently there is another side of the chain which has emerged.
"The cyber supply chain includes operations involving information and communication technologies, software distribution and operations within the cloud which is the backbone of today's digital economy.
"No supply chain is without its threats but we have to make businesses aware of the increasing attacks from the cyber side of the chain."
The Scottish Business Resilience Centre is funded by a range of private and public partners, including the police, Scottish government, Association of Scottish Clearing Banks, the drinks industry and private investors.
Its stated objectives are to "safeguard economic wellbeing across Scotland" and to provide members with business security services and advice.
Last month a BBC investigation found that Russian crime gangs had been targeting Scotland in a series of cyber attacks.
Figures from Police Scotland showed a peak in cyber crimes at the end of last year, with the business community being specifically targeted.