SSE report outlines £4.5m in community project awards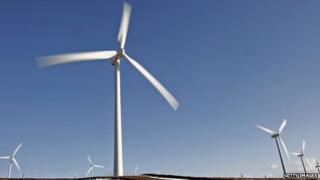 Energy giant SSE has announced that it invested more than £4.5m in community projects - the bulk of them in Scotland - in the last financial year.
The company said 366 not-for-profit groups benefited from community investment funds created through its onshore wind and hydro developments.
The largest single award was made to Biggar Museum Trust.
It received £650,000 from Perth-based SSE's Clyde wind farm fund towards a new visitor centre.
Other awards included a £400,000 grant to support Science, Technology, Engineering and Maths (STEM) studies across Highland schools, and a £75,000 grant to enable the community buy-out of Aberfeldy town hall in Perthshire.
Skills projects
More than £1m in grants went to skills and employment projects, including a £267,000 award to an employment programme in South Lanarkshire and more than £110,000 to three local apprenticeship schemes operating in the Great Glen, the Cairngorms National Park and Sutherland.
In England, wind farms at Keadby and Tilbury generated a funding pot of £100,000 during the period.
The figures were included in SSE's first community investment annual review.
It said that for every pound awarded, recipients sourced an additional two pounds in match-funding from other sources, raising the overall impact of the funding to £13.5m.
SSE chief executive Alistair Phillips-Davies said: "A sum as large as £4.5m will deliver a positive impact, but it's not simply about the value of our funding - how we do it matters too.
"By working with communities in genuine partnership, I believe we can support local decision-makers to ensure these funds can go even further and deliver sustainable benefits to the community year after year."