Bank of Scotland PMI report: recovery 'firmly embedded'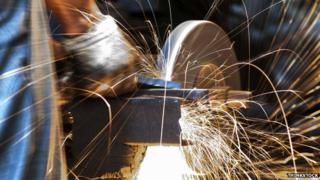 The recovery in the Scottish economy has become "firmly embedded", according to Bank of Scotland chief economist Donald MacRae.
His comments came as the bank's latest survey of company purchasing managers showed business activity rising at its fastest pace for three months.
The manufacturing and service sectors both saw output expand at an accelerated rate last month.
As a result, employment in the private sector rose strongly.
The report suggested that the speed of job creation was the most marked since February's record high.
The Bank of Scotland PMI - which measures changes in manufacturing and services activity - climbed to a three-month high of 55.9 in June, up solidly from May's 13-month low of 54.
Any figure above 50 suggests economic expansion.
Rates of growth in service sector business activity and goods production were both the fastest since March.
Growth was further supported by progress on backlogs of work.
'Increased demand'
Factory output north of the border expanded solidly in June, which was attributed by survey respondents to increased demand and an associated rise in incoming new orders.
Meanwhile, new export orders at manufacturers stabilised, after four successive months of declining international sales.
The survey has added further weight to recent evidence that Scotland's economic recovery has been gathering momentum.
Last week consultancy firm PwC's latest economic outlook suggested Scottish economic growth would pick up from 1.6% in 2013 to about 2.8% this year.
The figure for 2014 was revised up from the 2.4% projected by PwC in March.
The revised figure was slightly higher than that forecast in June by another leading forecaster, the Fraser of Allander Institute based at the University of Strathclyde.
'Rising salaries'
Commenting on the PMI report, Mr MacRae said: "The PMI for June rebounded to 55.9, signalling the fastest pace of private sector growth for three months and extending the current run of expansion to 21 months.
"Growth was evident across both manufacturing and services, with business services leading the way.
"After four months of decline, new export orders stabilised while levels of new business rose across the economy.
"Employment growth was accompanied by rising salaries, providing further evidence of increasing business confidence.
"The recovery in the Scottish economy is now firmly embedded."