Edinburgh Airport handles 10 million passengers in a year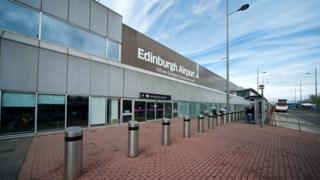 Edinburgh Airport has announced that it has become the first Scottish airport to handle more than 10 million passengers over a 12-month period.
Traffic figures for last month showed 10,032,288 people had passed through Edinburgh since June 2013.
The airport called it a "major milestone" in its drive to secure 10 million passengers in a calendar year.
Edinburgh Airport chief executive Gordon Dewar said he expected that target to be achieved in 2015.
He added: "Hitting 10 million passengers in our moving annual total is fantastic news.
"It's a real milestone which shows that our strategy of giving our passengers choice and great service is working."
A total of 993,758 passengers travelled through Edinburgh last month, an increase of 3.8% on June 2013.
International traffic increased by 5.5%, with 561,718 passengers travelling through the airport.
Domestic passenger numbers also rose by 1.6% to 432,040.
Edinburgh Airport has seen a number of new route launches this year, including new flights to Chicago, Doha and Philadelphia.
Glasgow traffic
Meanwhile, more than 793,000 people travelled through Glasgow Airport in June.
Passenger numbers were up 2.5% compared with the same period last year, with domestic and international traffic up 1.7% and 3.1% respectively.
The airport said growth in international traffic was driven by demand for European services such as Lufthansa Regional's direct flights to Dusseldorf and Wizz Air's routes to Gdansk and Warsaw.
The decision by a number of airlines including Jet2.com and Icelandair to add extra capacity also boosted the airport's numbers.
Aer Lingus recorded its busiest month at Glasgow Airport since 2002, carrying more than 18,000 passengers.
'Busy season'
Francois Bourienne, commercial director at Glasgow Airport, said: "June represented the start of the busy summer season and we were pleased to continue our trend of passenger of growth.
"Our focus is now firmly on helping to deliver a successful Commonwealth Games."
Aberdeen Airport also recorded growth in passenger numbers last month.
In June nearly more than 343,000 people used the airport - an increase of 9%.
There was growth of 9.4% in fixed wing flights and 6.8% in helicopter passengers.
Airport managing director Carol Benzie said: "Further growth is encouraging and is even exceeding our expectations."