Skills shortages 'threatening growth' for business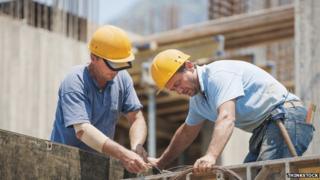 Business is on track for growth, but skills shortages could block continued recovery, a survey has found.
The Scottish Chambers of Commerce (SCC) found confidence was "buoyant" in manufacturing and construction as orders rose in the second quarter.
Almost 70% of firms in financial and business services said they expected profits to increase over the next year.
But SCC said Scottish firms were finding it hard to find the skilled staff required to maintain growth.
The findings were included in SCC's latest quarterly business survey, released in conjunction with the University of Strathclyde's Fraser of Allander Institute.
It looked at six of Scotland's key sectors - construction, financial and business services, manufacturing, retail, tourism and wholesale.
Manufacturers reported an increase in exporting for the sixth consecutive quarter, while investment plans in the sector were at their highest level since the end of 2007.
More than half of construction respondents reported a rise in total new contracts, with fewer than 15% reporting a decline.
The upward trend was forecast to continue, with a net 30% of firms expecting a rise in the third quarter.
However, there was an unexpected fall in public sector orders, which is anticipated to continue.
Confidence, visitor numbers and employment levels among hotels remained high and were expected to increase further in the third quarter of this year.
The survey also found sales improved for retailers between the first and second quarter of this year and were higher than any previous second quarter in the last seven years.
There was also an increase in expenditure on capital and training investment by businesses in the financial and business services sector.
Meanwhile, employment trends remained "buoyant", with at least 80% of businesses looking at either retaining or increasing their employee numbers.
Rapid jobs growth was expected from the construction sector.
'Right track'
SCC chief executive Liz Cameron said: "The majority of sectors are experiencing continued growth with key indicators maintained from the last quarter, showing that business is on the right track.
"Employment is a key measurement of business mood and our findings show that, with increased growth and confidence, businesses are now moving away from employing temporary staff towards new permanent full-time positions.
"This is good news for everyone providing employees and business with a level of stability."
She added: "Skills shortages existent in the workforce are making it difficult for business to source and employ the skilled staff required to maintain this growth.
"Our continued failure to address these issues will block the ability of business to continue on this path.
"The positive results from business should act as motivation for swift action.
"Colleges, universities, government, with business at the core and in the driving seat, need to develop and implement a realistic plan to plug these gaps urgently."
The Scottish government said investing in Scotland's workforce was key to the country's future economic success.
A spokesperson added: "Scottish business confidence remains buoyant, with encouraging trends across key sectors in new business, investment intentions and expectations for output, turnover and profitability.
"These figures show that the Scottish economy is strengthening."