Scottish Power to be reinvestigated over mis-selling claims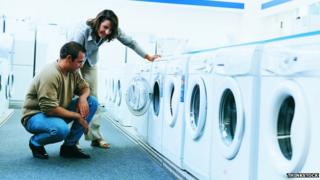 Ministers are to examine fresh claims about allegations of mis-selling from Scottish Power's chain of stores up to 15 years ago.
Stores offered extended warranties for goods that could be refunded if they were not used within five years.
More than 600,000 people took up the offer, with around 40,000 thought to have done so in Glasgow alone.
The shops were later sold to a company that went out of business.
Ten years ago, Scottish Power paid £6m to settle the claims, but liquidators say they have discovered new evidence about the offer that could pave the way for further payouts.
Early Day Motion
The Insolvency Service, which is an agency of the Department for Business, said it would "look closely at the new information and decide on the next steps".
Labour MP Gerry Sutcliffe had been campaigning for a fresh investigation into the scheme.
Earlier this year, he sponsored a parliamentary Early Day Motion (EDM) to raise the issue at Westminster that gained a response from the Prime Minister saying he would work to "get to the bottom" of the issue.
After hearing that the case could be reinvestigated, Mr Sutcliffe said: "My colleagues and I had a very positive meeting with the Consumers Affairs Minister today. We welcome the fact that the department is treating this issue with the seriousness it warrants.
"The fact remains that some 625,000 people are out of pocket. The commitment from BIS to get to the truth of the matter is a significant step towards getting to the truth - and our constituents' money back."
'No wrongdoing'
A spokesperson from Scottish Power responded to the news by saying it would work with any enquiries over the scheme.
"The PowerPlan extended warranty scheme, which was one of a number of similar extended warranty products offered by retailers across the industry, did not involve any wrongdoing by Scottish Power," he said.
"Scottish Power has always been willing to meet and correspond with the liquidator of PowerPlan Company Limited (TMP) in relation to the PowerPlan scheme.
"Scottish Power has not seen the information given to the Insolvency Service but will assist the Insolvency Service with any future enquiries."
Last year, the energy provider was ordered to pay customers £8.5m after an investigation by industry regulator Ofgem into its doorstep and telephone selling.