Bank of Scotland report: Pay rises at survey-record rate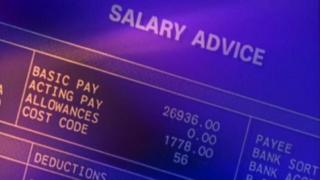 Starting salaries rose sharply last month on the back of a surge in demand for staff and an acute lack of available employees, according to a survey of recruiters.
The Bank of Scotland said pay for permanent posts rose at its fastest rate since it launched its monthly jobs report in 2003.
Meanwhile, employee availability plummeted to a survey-record low.
A rise in vacancies also helped drive up the number of people placed in jobs.
The bank's Report on Jobs found permanent starting salaries in Scotland continued to rise much faster on average than hourly pay rates of temporary staff.
Job vacancies
It also noted a sharp rise in the number of permanent job openings in June, while vacancies for temporary jobs grew at the fastest pace since February.
The accounts and financial sector saw the sharpest overall increase in permanent job vacancies, while the nursing/medical/care sector saw the greatest increase in temporary staff demand.
Permanent placements north of the border accelerated for the second month running, with the latest increase more marked than that seen at the UK level.
Similarly, the temporary jobs' market gained momentum as billings received by Scottish consultancies rose to the greatest extent since January.
June also saw a survey-record contraction in the number of candidates seeking permanent employment in Scotland.
The availability of candidates seeking temporary employment also deteriorated.
Temp candidates were reported to be in short supply in engineering, IT and quantity surveying.
Bank of Scotland chief economist Donald MacRae said: "The number of people appointed to jobs increased, while vacancies grew at a robust rate.
"The number of candidates available for both permanent and temporary jobs fell, accompanied by a record rise in starting salaries.
"The recovery in the Scottish economy looks set to continue."