Scottish economy: Manufactured exports rise by 3%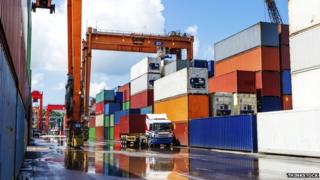 Scottish manufactured export sales grew by 3% during the first quarter of this year, according to official statistics.
The figures were lifted by a 12.5% rise in exports of refined petroleum, chemical and pharmaceutical products, compared with the previous quarter.
The increase was in part attributed to the resumption of production at the Grangemouth oil refinery, following its temporary closure late last year.
Food and drink exports were up 1.6% over the quarter.
The Index of Manufactured Exports also recorded increases in overseas sales for the engineering, textiles and metals sectors.
Over the past year, the overall volume of exports has risen by 2.4%.
'Still challenging'
Finance Secretary John Swinney said: "These figures reinforce the belief that recovery is being felt across most industries, and follows on from recent GDP figures which show that the Scottish economy is now past its pre-recession peak with GDP growing by 1% in the first quarter of 2014, faster than the UK as a whole.
"Labour market statistics published this month also show that employment in Scotland is at a record high.
"However, we are aware that times remain challenging for many industries, which reflects the ongoing economic uncertainty in the eurozone.
"Through our enterprise agencies, the Scottish government is strengthening Scotland's economic links in overseas markets.
"We are encouraging more growth companies to become active exporters and we are widening our support to help them do so."
'Encouraging'
The UK government's Scottish Secretary Alistair Carmichael said: "On the back of record employment and seven consecutive quarters of Scottish economic growth, it is encouraging to see Scotland's international export sales have increased during the first quarter of 2014.
"This week has seen the UK solidify its place as the number one destination in Europe for foreign direct investment projects and we are determined to help our businesses grow, export and ultimately create more jobs."
Scottish Chambers of Commerce chief executive Liz Cameron welcomed the new figures.
"This is great news for Scotland's economy, particularly against a background where many of our international markets are still experiencing economic issues of their own," she said.
"This growth needs to be supported and sustained.
"Scottish government figures show that our total exports, including goods and services, grew by only 5% in real terms between 2006 and 2012 and we have lower exports per head of population than the UK average."
Ms Cameron added: "More needs to be done to realise the export potential that Scotland possesses."