House builder Cala Group's growth plans 'ahead of target'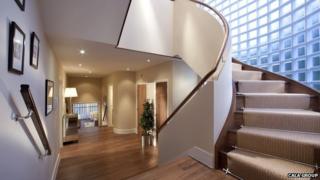 Upmarket house builder Cala Group has raised its growth expectations after forecasting record annual profits.
Last October, the Edinburgh-based firm announced plans to double the size of the business through organic growth by 2017.
But after buying Banner Homes in March and performing strongly this year, it now says it is confident it can "almost treble in size" in just two years.
The Banner acquisition turned Cala into a top 10 UK house builder by revenue.
It also saw the group significantly increase its presence in the south east of England.
In an update on trading for the year to the end of June, Cala said it expected a "significant" increase on last year's record profits when it reports its annual results in September.
During the financial year, the average selling price climbed by 24% to £415,000. However, private completions were virtually static at 689.
Cala said the wider recovery in the housing market, which took hold during the second quarter of 2013, had continued strongly this year.
It added that increased access to mortgage finance and a more encouraging outlook for the UK economy had translated into improved buyer confidence.
'Transformational period'
Cala Group chief executive Alan Brown said: "The last 12 months has been a transformational period for the business and we enter the new financial year in a very strong position.
"In October 2013, we announced plans to double the size of the business through organic growth by 2017.
"But, with the Banner integration significantly advanced and the group delivering well against our stated strategy, we are now confident we can almost treble in size, significantly ahead of our targets, in just two years."
He added: "Following our own acquisition by Patron Capital and Legal & General in 2013, we remain very well financed.
"As a result we have been able to make selective acquisitions within the land market during the period, mainly of larger sites in the south east of England, in order to support our growth plans in the region."