Temporary power firm Aggreko hit by currency changes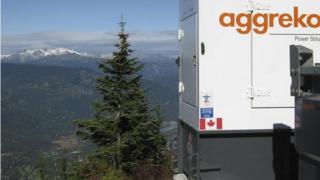 Temporary power firm Aggreko has reported a fall in pre-tax profits on the back of currency movements.
Aggreko made £132m in the first six months of the year - a fall of 9% - but the company said underlying growth was strong.
The Glasgow-based group said its results were adversely affected by the impact of "currency translation".
It said underlying revenue was up 12% to £768m with underlying profit up 6%.
Angus Cockburn, Aggreko's interim chief executive said: "Aggreko has made an encouraging start to the year and delivered a good performance in the first half.
He added: " We are proud to have been involved in the provision of broadcast and stadium power for both the FIFA World Cup and the Glasgow Commonwealth Games."
Aggreko's local business operates from 133 service centres in 31 countries and rents out products ranging from small generators to large cooling plants.
Its international power arm serves utilities, governments, armed forces and major industrial customers with power plants ranging from 10 megawatts to 100 megawatts on a single site.
During the period the company won contracts in Libya, Senegal and the Philippines .
Aggreko employs more than 4,500 people operating from 165 locations.
The group said full year projections remained unchanged.