Pension changes boost Standard Life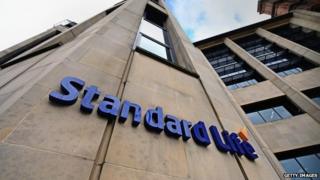 Standard Life reports a 12% rise in first-half operating profit as demand rises for its auto enrolment pensions.
Operating profit increased to £339m in the first six months of 2014 compared with £304m a year earlier.
The Edinburgh-based group said it had gained 1,018 new auto enrolment corporate schemes with 180,000 joiners.
Assets under administration rose 4% to £254bn, while the company's fund management arm posted a 5% increase in third party assets to £108bn.
Last month Standard Life Investments completed its purchase of fund manager rival, Ignis Asset Management for £390m.
The company used its interim results to give an update on the issue of independence.
In February, it warned it may have to relocate significant operations and assets outside the country if there was a "yes" vote for independence.
It said it had "highlighted a number of material issues which we believed remained uncertain as a result of the Scottish independence referendum", including currency, Scotland's membership of the EU and personal taxation.
In a statement to the stock exchange the group said it did not believe that "further clarity has been provided on any of these issues".
Supporters of Scottish independence have previously claimed that Standard Life's concerns underline the importance of their plan for a formal currency union with the rest of the UK if there is a "Yes" vote.
They have also argued that remaining within the UK is a bigger threat to Scotland's EU membership because of the in-out referendum promised by David Cameron.