Johnnie Walker firm loses court case over name of Explorers Club whisky line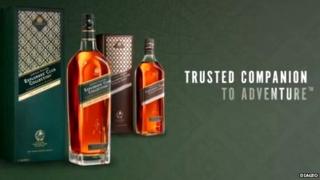 Diageo may have to take its Johnnie Walker Explorers Club whisky off the shelves after losing a court battle over the use of the club's name.
The world-renowned Explorers Club successfully argued in a US court the drinks giant did not have permission to use its name and had profited from it.
The club counts famous adventurers such as Sir Ernest Shackleton and Buzz Aldrin as members.
It promotes the scientific exploration of land, sea, air and space.
Diageo said it would seek to postpone the injunction while it appeals the case.
The drinks group launched its Explorers Club collection of whiskies in 2012, saying it had been inspired by the great journeys of the Walker family to the four corners of the world.
Permanent injunction
But on Monday, the Supreme Court of the State of New York granted a permanent injunction against the line.
It was granted under a law which bars the unauthorised use of the name of a "benevolent, humane, or charitable organisation," with intent to obtain a business advantage or benefit.
Justice Charles E. Ramos said the company had profited from using the name unlawfully to the tune of about $50m in sales.
Josh Schiller, counsel for the Explorers Club, said: "Diageo admitted knowing about the club prior to launching its product, and still failed to ever approach the club for permission to use its name before trading on the club's name and history.
"Though the club faced the vast resources of the world's largest liquor company in seeking this injunction, this club is a treasured organisation used to surmounting great challenges and could not sit by and have Diageo completely devalue the name it has built through over a century of historic accomplishment.
"As Judge Ramos said, 'Other than the fact that Johnnie Walker seems to walk with large boots on, I'm not aware of him climbing Mount Everest'."
Alan Nichols, president of The Explorers Club, said: "Diego could have approached the club about a mutually beneficial working relationship before deciding to launch a worldwide marketing campaign using the club's name and reputation to sell its Johnnie Walker product.
"The club is an organisation with chapters all over the world that regularly carries on activities with responsible corporations that support the club's non-profit mission.
"Diageo's conduct directly threatens the reputation and goodwill the Explorers Club and its members have built over more than 100 years.
"We look forward to enforcing the injunction worldwide in the interests of justice and ending Diageo's unauthorized misuse of the club's name, our history, and renowned reputation."
In a statement, Diageo said: "We are extremely disappointed and disagree with the decision of Judge Ramos.
"We are awaiting official receipt of the order and are planning to seek to stay the injunction while we immediately appeal this case."