Scottish shop sales rise but lag behind GB figures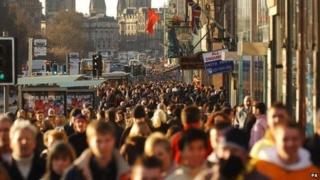 Retail sales in Scotland increased in the second quarter but at a slower pace than Great Britain as a whole, according to figures released by the Scottish government.
Data indicated that sales volumes north of the border grew by 0.8% between April and June.
On an annual basis, they were up by 2.9%.
In comparison, retail sales in Great Britain increased by 1.6% during the second quarter, and by 4.5% annually.
Retailers described the figures as "heartening".
Large shops with at least 250 employees - which account for about 70% of retail industry sales - saw an increase of 0.5% in sales during the three-month period.
Sales at small and medium stores also rose over the latest period, by 1.3%.
'Heartening increase'
Responding to the figures, Scottish Retail Consortium director David Lonsdale said: "The increase in retail sales over the past 12 months is heartening and mirrors the findings of our own Scottish survey.
"While it is ultimately up to retailers to work hard to sustain this, government at every level can assist by channelling their collective energies into ensuring that the retail industry, Scotland's largest private sector employer, is even better placed to be able to invest, expand and create jobs.
"Policies which put money into people's pockets, keep down the cost of doing business, and facilitate retail investment and expansion should be prioritised."
Euan Murray, of Barclays Corporate Banking, said Scotland's retail sector was building on the momentum of a positive first quarter, despite mixed reports across the market.
"Retail parks continue to outperform the high street but both have benefited from the impact of a late Easter and the onset of summer holiday shopping," he said.
"The summer's warm weather and programme of major cultural and sporting events, which bring with them an influx of domestic and foreign tourists, should see consumer spend increase.
"With Scottish GDP improving and employment on the rise, all the signs point to continued growth."