Johnston Press posts 'solid' first-half results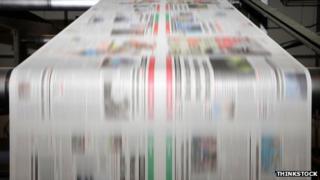 Newspaper and online publisher Johnston Press has reported a fall in revenues but a rise in profits for the first half of this year.
Revenue fell by 4.3% to £135.8m, while underlying operating profit stood at £28.3m, showing year-on-year growth of 3.6%.
The results were boosted by strong digital revenue growth, with digital advertising up by 23.4% to £14.1m.
Johnston Press said it had delivered a "solid" first-half performance.
The Edinburgh-based publisher runs more than 200 regional papers across the country, including titles such as The Scotsman and the Yorkshire Post.
Earlier this year it completed a capital refinancing plan, raising £225m through a bond issue and £140m through a placing and rights issue, in order to pay back historic debt.
'Growing strongly'
Chief Executive Ashley Highfield said the first half had seen continued progress on a strategy, launched in 2012, which included growing its overall audience through re-launching print titles and investing in new digital products across all platforms.
He said: "We are growing strongly in a number of categories, and reducing the decline in the rest, whilst continuing to bring down our cost base. As a result we are growing operating profits and margins.
"Also in the first half of 2014 we sold our Republic of Ireland business, comprising 12 titles."
He added: "The sale of our assets in the Republic of Ireland means we can focus our resources entirely on driving our business in the United Kingdom and Isle of Man, with particular emphasis on our digital initiatives.
"We are seeing continued growth in our total audience and in digital revenues and we believe this sale allows us to better capitalise on the opportunities in these markets.
"The economy is continuing to improve and the ripple-out effect from London and the South East is beginning to show in the numbers in Scotland, Yorkshire and Northern Ireland."