The BenRiach Distillery Company posts record profits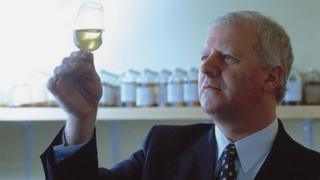 The BenRiach Distillery Company has reported record pre-tax profits in its 10th year in business.
The Edinburgh-based maker of BenRiach, GlenDronach and Glenglassaugh single malts said profits shot up by 116% to £8.9m on a turnover of £34.5m.
Its results were boosted by "unprecedented demand for high-end brands" in Asia, North America, Russia and Europe, as well as the UK.
The company has grown considerably since its formation 10 years ago.
Starting with just a dozen staff, its headcount has risen to 120 across four locations.
The BenRiach Distillery in Speyside was bought by Billy Walker and two South African partners in 2004.
It was followed by the purchase of GlenDronach in Aberdeenshire and a five-line bottling plant in Newbridge on the outskirts of Edinburgh.
BenRiach's most recent acquisition was Glenglassaugh Distillery in Banffshire last year.
'Fascinating journey'
Mr Walker, who is managing director of the firm, said: "It's terrific to be able to announce record profits of some £9m in our 10th anniversary year.
"It's been a fascinating journey over the past ten years, though I'm not sure that when we bought the train ticket we quite knew where the destination was.
"We'll see where that journey takes us in the next 10 years."
He added: "We find ourselves in one of the golden periods of the industry.
"There's unprecedented demand for high-end brands like ours in places such as Asia, North America, Russia and Europe as well as in our home market, the UK.
"Taiwan is the number one export market for our single malt brands but we have a wide customer base and currently ship to over 40 countries.
"However, there is still potential for growth in the likes of Hong Kong, Singapore, Korea and much of South America, and you've also got untapped Africa waiting in the wings."