Bank of Scotland PMI report: business activity at 'six-month high'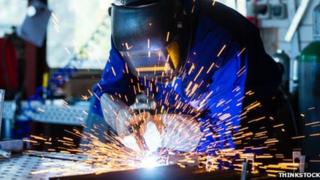 Business activity rose at the fastest rate in six months in July, supporting continued employment growth, according to the Bank of Scotland.
Its latest survey of purchasing managers also recorded a robust increase in overall new business.
Scottish private sector output increased at a "sharp and accelerated rate", the report found.
But there was a persistent weakness in manufacturers' export sales.
The bank's Purchasing Managers Index (PMI) - a measure of the month-on-month change in combined manufacturing and services business activity - was at a six-month high of 56.8, up for the second straight month from 55.9 in June and 54.0 in May.
Donald MacRae, chief economist at the Bank of Scotland, said: "July's PMI reached a six-month high of 56.8, indicating robust growth in the private sector.
"Employment and new business both expanded in the month across manufacturing and services but the level of manufacturing new export orders fell, illustrating the challenges for exporters from a strong pound and weak growth in the eurozone economies.
"The recovery continues with the Scottish economy entering the second half of the year in growth mode."
'Economic upturn'
There was also another strong increase in incoming new work, although export orders at manufacturers decreased for the fifth time in the past six months.
The report found Scotland's labour market continued to benefit from the upturn in economic activity, with jobs growth recorded at manufacturers and services firms alike.
However, the overall rise in employment was slightly less marked than in June, and also slower than that seen across the UK as a whole.
New orders at Scottish manufacturers increased in July, stretching the current sequence of growth to 19 months.
Almost 29% of companies surveyed recorded a rise in their incoming new business.
However, while manufacturers saw strong growth in new orders overall, they continued to struggle to find new overseas business.